ESL Mission Outreach
NHUMC extiende su ministerio mas alla de las paredes de nuestra congregacion.
Tenemos el ministerio de Clases de Inglés como Segunda Lengua con los padres de Familia de la escuela Primaria Steubing Ranch y de la escuela Primaria Stahl.
El propósito es participar en clases de Inglés semanalmente, así tener la oportunidad de aprender y convivir con personas de la cultura Hispana/Mexicana en el área de San Antonio.
Para mayor información:
Miércoles, 9:30 - 11:00 a.m., Steubing Ranch Elementary and Stahl Elementary

Sesion el otono 2019
de octubure 2 - noviembre 20
Lunes at the Ministry Center, 6:30 - 8:00 p.m. (4306 Naco Pass, 78217)
Sesion el otono 2019
de septiembre 30 - noviembre 18
_____________________________________________________________________________________________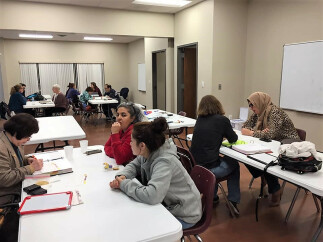 NHUMC expands its ministry beyond the church walls of our congregation.
We provide English as a Second Language classes to the parents of children at Steubing Ranch Elementary and Stahl Elementary.
The purpose of this ministry is to offer English classes, and through that, have the opportunity to fellowship and learn with Hispanic/Mexican people who live in San Antonio.
Wednesdays, 9:30 - 11:00 a.m., Steubing Ranch Elementary and Stahl Elementary
Fall Session:
October 2 - November 20
Mondays at The Ministry Center, 6:30 - 8:00 p.m. (4306 Naco Pass, 78217)
Fall Session:
September 30 - November 18